TABLE LEGS, BED LEGS, FEET FOR PIECES OF FURNITURE, DRAWER AND DOOR KNOBS AND HANDLES AND EVERYTHING CONCERNING WOOD-TURNING

SMOOTHED, PAINTED, VARNISHED AND WATER OR THINNER PAINTED, NC-BORING, AND INSERTION OF ANY IRONWORK, PACKING.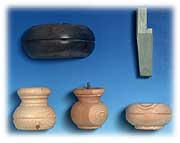 SQUARE MOULDED LEGS FOR CABINETS, TABLES, LITTLE PIECES OF FURNITURE, CHAIRS, TOYS, ETC.

PAINTED AND VARNISHED AS ABOVE
DYES DIN EN 71-3 BLAUPAPIER MIN.4
VARNISH DIN 53-160
SYSTEM RAMADHARMA
ITALIAN PAT.1199619 *USA 4,778,673*
MAINLY PINEWOOD AND FIR, ON REQUEST ASH, BEECH, ETC.